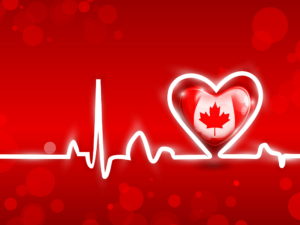 Canada offers Quality Care for all.
Performed throughout to a high standard by well trained staff and based on the needs of the patient, rather than their ability to pay, Canada's Public Healthcare system is freely available to all citizens. Funded by the government almost entirely through tax revenue the money pays for all the nursing staff, physicians, surgeons, hospital building, equipment and essential services that it takes to run a system renowned for its quality of care.
If you are planning on becoming a Canadian citizen,
you can apply easily for coverage under their public health system. This will give you cover for most of your healthcare requirements at no cost.
When you arrive,
you will need to fill out a form and apply for a health insurance card, which are individually issued. You can get a digital copy of the form online at the website of your particular province or a hard copy at a local hospital or doctors surgery.
To cover you for any potential delay in the application process when you are newly resident, some private insurance is advised.
Provincial differences
Though it is worth checking the specifics, as it can differ a little from one province to another, the treatment residents can generally expect of the system includes surgical operations and resultant stays in hospital, emergency care, visits from the doctor, bloodwork & vaccinations.
Things not included by the system tend to be things like, dentistry, optometry, physiotherapy, certain medical supplies and prescriptions, (unless you are over 65), to some special tests, chiropractic work and cosmetic surgery, are some examples. Also, check if an ambulance
Once resident,
a private healthcare insurance policy is recommended for the things the public system doesn't provide for, like special medication, spectacles, dental treatment, physiotherapy and certain medical equipment/services. This can be tailored to your particular requirements.
Policy pricing varies greatly, so shop around.
Working in Canada, most employers provide free health cover for employees & their families as part of their conditions of employment.
Expats & Travelers
If you are planning on staying for a short or longer period however without becoming a citizen it is recommended to look out for appropriated health cover. Find out more about the differences between travel and international health insurance on our "health insurance" page.
Checklist:
1. Private health insurance for arriving in Canada to cover you until your application for a medical card has been processed. Be aware that some policies do not cover for preexisting or pregnancy related conditions.
2. Application form for public medical insurance and medical card, available from hospitals doctor surgery or downloaded from the government website of your province.
3. If working for an employer, does the job include health cover?
4. Private healthcare cover for the things not covered by the public system. Special attention should be paid here to any preexisting illnesses and conditions.